A lady contacted me a few weeks ago via email and asked about Chanel cake pops for a Sweet 16 party.  Chanel? Sure! I'm not a huge expensive label person (only because I come from humble beginnings and can't afford any of it! haha) but I do love that classic black double C Chanel logo.  I mean, at 34 years old I just recently got myself a Michael Kors handbag, which in reality is not even an uber nice brand, but in my world spending a couple hundred dollars (or even a hundred!) on a purse is really ridiculous..but don't get me wrong, I always admire nice purses and shoes, but never can seem to part with my money for that kind of stuff makes my heart hurt..but this purse, I just thought it was so nice looking that I just went ahead and got it.  One nice purse to last me a life time isn't so bad..right? Alright, I still feel a teeny bit guilty looking/using it..but oh well.  🙂
Back to Chanel.  Miss F wanted some bling sticks for the Chanel cake pops and I got super excited because I have see these sticks and they are soo cute! I had to You Tube it to get the logistics right, they're easy to make, but time consuming.  I had to make 50. I found this bling "ribbon" in rows of 4, which is perfect to wrap around a stick.  Cut it, then hot glue gun it to the sticks.  Cute!
Then I searched online for a Chanel logo mold and found this one on Etsy.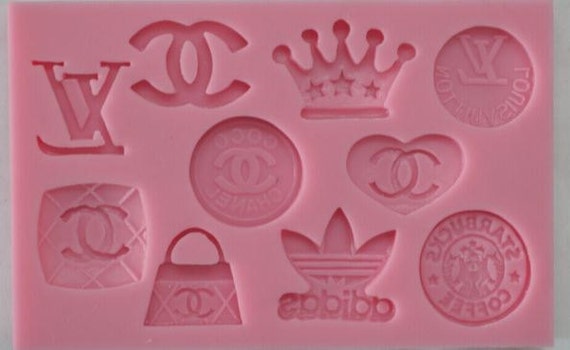 I ordered it and luckily it got here just in time!  Making these logos were so frustrating because I only bought one mold and they're so small and delicate.  I piped the black chocolate into the mold, had to leave it in the fridge for the right amount of time, and carefully pop it out.  I probably broke more than I made in the beginning but eventually  got the hang of it.  Then it was just the timing of waiting for it to harden in the fridge.  These were the bane of my existence!!
Here are the Chanel cake pops, I think they turned out so cute!!
For the cake, I suggested a simple design.  A black bow, black Chanel logo on top, then a quilted design on the cake.
I picked up one of these tools at my local baking supply store:
http://www.countrykitchensa.com/shop/cake-decorating-supplies/large-diamond-quilter-gumpastefondant/38/755/156/630580/
SO helpful in keeping things straight without having to measure anything! Then I got one of these tools:
http://bakingpleasures.com.au/p931/pme-quilting-tool
to go over the lines so that the lines look "quilted."  Simple! The I just stuck on some pearls at the intersections. First time doing this quilted design! Love it! too bad she didn't need a bigger cake so that the quilted design was more and you can really see it! But loved how it turned out and the simplicity of it! 🙂